When I opened the August 2023 issue of Adventure Cyclist, a magazine for cycling enthusiasts published by the Adventure Cycling Association, and saw the article "Double the TransAm, Double the Fun," I was immediately drawn in.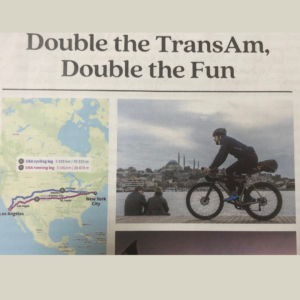 ---
There are a lot of 'crazies' who tackle some wildly outlandish feats.
---
---
Crazies come in all shapes and sizes and from different continents.
---
Not one to settle, in 2022, Zeinab went on to win "The Rhino Run," a 1,700-mile mixed gravel/dirt/paved race from South Africa to Namibia. The "Don't Look Back – The Rhino Run Story" video is a must-see. The finish is gripping. Click link above.
---
---
"I was, and still am, a dreamer, and I have always had a habit of acting on my dreams."
Excerpt From Suit to Saddle: Cycling to Self-Discovery on the Southern Tier
---