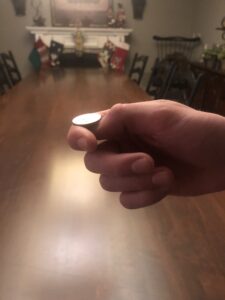 ---
"I've thought about writing a book someday."
A statement I heard a lot over the past several months when talking to folks about my cycling and writing journey.
Over 80 percent of people want to, but less than 20 percent will take the plunge (according to a 2002 survey).
I never envisioned writing a full manuscript that eventually became two books.
During the summer of 2019, my mind shifted once I sat back and realized I had been on an incredible trek across America twice.
I had seen America Up Close from a unique vantage point. An amazing experience.
At that point, I decided to hunker down and write. And write. Days turned into weeks, which turned into months. Five months to be exact-August 2019 through December 2019.
In January 2020, I went back to work.
In March 2020, the Pandemic hit.
One morning during the summer of 2020, I was relaxing on my front porch when my neighbors walked by.
"I wrote a manuscript, but I don't know what to do with it," I replied to a frequently asked question.
"You should reach out to Kathy. She can point you in the right direction.", the last thing I remember hearing from that serendipitous front porch encounter.
The following week I spoke to Kathy.
I knew right away I had my answer.
I needed help editing and proofreading. I needed help preparing files for wide eBook and paperback distribution. I needed to learn; I wanted to learn about the entire publishing process. I became a student once again.
Passion, Persistence, and Belief in Self drove me. I had unconditional support from my family to try something new. I was energized to tackle this new thing. I still am.
There is something very special about writing a book.
A sense of pride. A feeling of accomplishment.
Not knowing if the story will delight the reader is a bit unnerving.
That's the whole point. Isn't it? To delight the reader. At least try to.
Creating author brand and book awareness when over 50,000 books are released each month is not as easy as it seems from the outside.
That's the task at hand.
Writing a book is not easy. Like anything else, it takes discipline and persistence to see something to the end.
Find the time when the mind is fresh, and don't overthink. Just let your words fill the pages.
Stay with it.
Don't set an artificial timeline.
Don't settle.
Welcome feedback.
Write it again and again.
Until you are pleased with the result and love reading your own story!
Many people want to write a book. If you are one, I encourage you to click on the link below and reach out to my friends at Bublish.
Maybe they can point you in the right direction. https://form.jotform.com/223465598330158
If you've gotten this far, you might as well click on this link and read about balancing Craft and Commerce. https://gosolo.subkit.com/larry-walsh/
Figuring out that right mix is the #1 lesson from my publishing experience.